Kevin Croegaert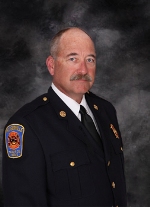 Assistant Chief of Operations Kevin Croegaert joined the Department in 2010 with close to 30 years of fire industry service experience.  With 15 years at the command level, Chief Croegaert brings to the Department strength in planning for sustained fire department operations with a solid understanding of the importance and coordination of emergency response services in a community.
After serving four years in the U.S. Army, Chief Croegaert earned his Bachelor of Science in Fire Service Management from Southern Illinois University and Masters of Science in Management from Cardinal Stritch University.    
As a leader in the fire services industry, Chief Croegaert has taught fire technology, technical rescue preparation, assessment and response, leadership and ICS and National Incident Management.  He has been involved in high-profile incident command assignments involving multiple alarm and multi-operational period incidents ensuring coordination and continuity of all involved agency operations.