The numbers are sobering. More than 1 in 4 teen car crash fatalities, which are the leading cause of death for teens nationwide, involve an underage drinking driver. Texas has the 6th highest rate in the U.S. of teens who say they've driven under the influence of alcohol or drugs. Here in Travis County, recent reports showed 34 people, including six young adults, died in one year in crashes involving drivers under the influence.
But in the Pflugerville area, first responders are determined to cut these heart-breaking numbers. The Pflugerville Fire Department created the TO SAVE JUST ONE program in 2001 to take a proactive approach to end-of-the-school-year teen parties. The annual event for seniors at Hendrickson High School and Pflugerville High School starts with a compelling presentation inside each school from someone directly impacted by a drunk driver, followed by a dramatized fatal car crash outdoors.
To raise public awareness in advance of our 15th Annual TO SAVE JUST ONE events in May 2016, our Department produced and posted to social media a series of 5 short videos featuring some of the students who were preparing to perform roles (crash victims or drunk drivers) in the mock collisions. In their own words, these highly motivated students helped us spread our safety message to the intended audience. Here are the links to enjoy these short videos and event photo albums:
Video of Cat Atkinson from PHS
Video of Miguel Poseda from PHS  
Video of Khimani Smith from HHS       
Video of Abigail Marinelacena from HHS 
"We've timed our program to be on the hearts and minds of seniors right before their prom and graduation, when they'll face a huge amount of pressure and temptations," said Fire Capt. Robert Ortiz. "The presentation is emotional and the mock crash may seem morbid. But that's the point – to encourage the kids to think before they drink, and use their positive decision-making skills no matter where they're sitting in the car."
The program requires extensive preparation, including the generous participation of STAR Flight aerial emergency medical service, Austin-Travis County EMS, Pflugerville Police, and PfISD Police. Wrecked cars are donated by Aus-Tex Towing & Recovery. The Fire Department has been working with faculty and students at both high schools for several weeks who will play roles in the dramatized crash – the drunk, the deceased, the injured passengers – and wear heavy moulage make-up to bring the lesson to life.
"Many hours of work goes on behind-the-scenes to pull off this program," Capt. Ortiz said. "But if it saves even one life, then it was well worth it. After all, our local youths are our greatest resource."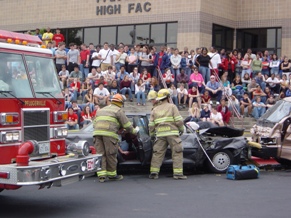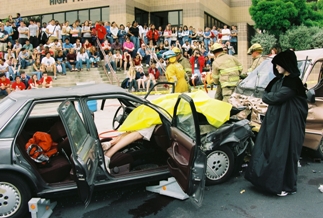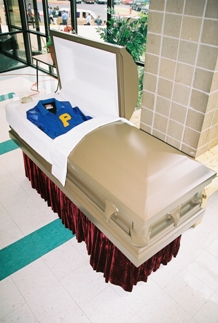 <Back