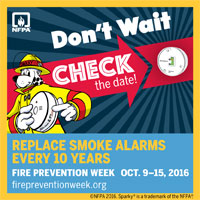 Each year, the Pflugerville Fire Department actively supports National Fire Prevention Week in cooperation with the National Fire Protection Association (NFPA). In 2016, Fire Prevention Week will be October 9-16. This year's theme from NFPA is DON'T WAIT, CHECK THE DATE! REPLACE ALL SMOKE ALARMS EVERY 10 YEARS! We are sharing this life-saving message during all of our station tours and public appearances throughout the months of September and October this year. We are also sharing online resources with interested elementary and middle school health teachers to support them in implementing National Fire Prevention week in their classrooms. Additionally, we will have a limited supply of Fire Prevention Week promotional sticker, fliers, and small posters available for members of the public who are interested. Contact This email address is being protected from spambots. You need JavaScript enabled to view it. to request these materials in advance. 
Too many people don't realize that smoke alarms don't last forever, even if you regularly change their batteries! Take a minute to make sure you know how old all of the smoke alarms are in your home. To find out how old a smoke alarm is, remove it from the wall/ceiling and look at the back of the alarm to see the date it was manufactured. The alarm should be REPLACED if it's more than 10 years from that date! 
Pfamily Pfestival & EXPO: October 1
You will see our firefighters and department staff actively promote DON'T WAIT, CHECK THE DATE! at the Pflugerville Chamber of Commerce's Pfamily Pfestival & EXPO from 9 am to 3 pm on Saturday, October 1, 2016, at the Stone Hill Town Center. We will be in three locations at the Pfestival: a fire truck or ambulance from 11 am to 2 pm, a safety information booth with life-size firefighter cut-outs for photo ops all day, and our popular Fire Safety House all day. Visit ANY TWO of these locations, then drop off a stamped, completed prize card at our Pfestival booth to be entered into a draw for great prizes include FREE smoke alarms. Our GRAND PRIZE will be a catered holiday meal for six people! 
National Night Out (NNO): October 4
We will incorporate DON'T WAIT, CHECK THE DATE! into all of our public appearances for NNO 2016, which this year will be Tuesday evening, October 4, in various neighborhoods throughout the community. Our firetrucks are available on a limited basis to visit neighborhood events for 20-25 minutes to educate the public about fire safety and promote National Fire Prevention Week. For more information, or to submit a request, please call our Community Outreach office at least three weeks in advance at (512) 989-4550. 
<Back